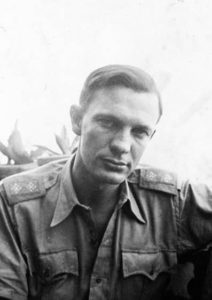 Dan Davin was born and grew up in Southland.  He attended Otago University and became a Rhodes Scholar to Oxford graduating just before the start of WWII.  He joined up immediately first with the Royal Warwickshire Regiment and then transferred to the NZ Division in 1940 where he saw action in Crete.  He then joined Military Intelligence, 8th Army HQ in Cairo.
You may have heard the recent reading on National Radio New Zealand of Dance of the Peacocks by James McNeish which included Davin as one of a notable group of Rhodes Scholars from between the wars.
A Field Officer's Notebook is a collection of his poetry from this time which has been edited by Robert McLean.
We are very lucky to have Fiona Farrell, Vincent O'Sullivan, Robert McLean, Roger Hickin and Tony Eyre speaking about this charismatic writer who influenced many generations of New Zealanders through his open door policy towards travelling Kiwis as much as his writing.
Subscribe to our newsletter for updates
Categories
Blog Archive