Month: August 2018
By Bianca Bosker
August 31, 2018
Professional journalist and amateur drinker Bianca Bosker didn't know much about wine, until she discovered the world of elite sommeliers who dedicate their lives to the pursuit of flavor.  Fascinated by their fervor and seemingly superhuman sensory powers, she set out to uncover what drove their obsession, and whether she, too, could become a 'cork dork.'
With boundless curiosity, humour and a healthy dose of skepticism, Bosker takes the reader inside underground tasting groups, exclusive New York City restaurants, mass-market wine factories and even a neuroscientist's fMRI machine as she attempts to answer the most nagging question of all: what's the big deal about wine?  Funny, counterintuitive and compulsively readable, Cork Dork does for drinking what Kitchen Confidential did for dining out, ensuring you'll never reach blindly for the second cheapest bottle on the menu again.
By Jennifer Zeynab Joukhadar
August 31, 2018
'The winter before Baba went into the earth, he never missed a bedtime story.  Baba made my favourite one, the story of the mapmaker's apprentice, last two whole months.  Mama listened at the door, getting Baba a glass of water when he got hoarse.  When he lost his voice, I told the ending.  Then the story was ours…'
Nour has lost her father.  She has also lost the place where she was born and now lives in the Syrian city of Horms, along with her sisters and mother.  And so, by the fig tree in the garden, Nour whispers the stories her Baba once told her, so that the roots of the tree will carry those stories back to where her father is buried and he won't feel so alone.  Her favourite is the story of Rawiya, a young girl from the twelfth century who left her home in search of adventure, dressed as a boy.
But Syria is changing and it isn't long before protests and shelling destroy the peace of the city.  As Nour begins her own journey as a refugee, she draws strength and inspiration from the voyage of Rawiya, who became apprenticed to the famous mapmaker, al-Idrisi, and who battled mythical creatures and endured epic battles in the attempt to compile the most accurate map of the world ever made.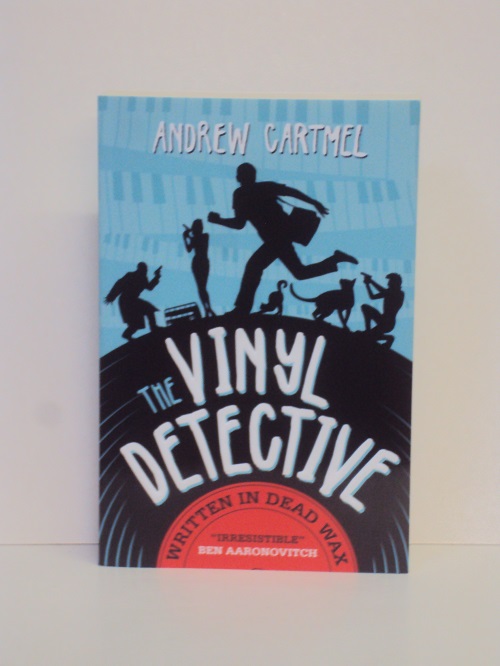 By Andrew Cartmel
August 15, 2018
He is a record collector – a connoisseur of vinyl, hunting out rare and elusive LPs.  Some end up on his turntable, some are sold at a handsome profit, and all sound a hell of a lot better than any digital recording.
His business card describes him as the "Vinyl Detective" and certain people take this more literally than others.  Like the mysterious woman who wants to pay him a large sum of money to find a priceless lost recording – on behalf of a wealthy, shadowy and somewhat sinister client.
Given that he's just about to run out of cat food, this gets our hero's full attention.  So begins a dangerous odyssey in search of the rarest jazz record of them all…